Why Anthony Vincent?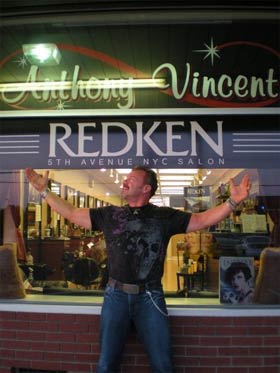 As a visionary, Anthony Vincent opened his first salon, a children's only salon called "Kids Corner" realizing then the most important style is one that makes you FEEL your very best. An African American salon named "Black Magic" followed suit. And then the birth of Anthony Vincent Salon, with continued success has grown and evolved the last five decades.
Always ahead of his time, this legendary entrepreneur continues to succeed by surrounding himself and his core team with fresh up and coming stylists that energize the creative flow of new and old for a dynamic fashion experience. With his finger on the pulse of the industry, Anthony and his team offer the best in personal service, education and professionalism while creating style with talent and artistry.
Affectionately known as the Wizard of Weddings, Anthony will make your day or any day special and beautiful.
With guest appearances on the Hit show, "Jerseylicious" and producer of the local cable TV series...Tip Chic, Anthony and his team give on air 30 second beauty tips to help inspire you to look the very best you can without leaving your home.
Moving forward with a new endeavor, Anthony and Alyse (The Magnet) have spun the Anthony Vincent brand into a Mecca of beauty and talent that transcends through the air waves via: Trend Radio where the charismatic duo discuss the latest "Trends" in relationships, health, wellness and sex (mostly sex). Check it out on 920thejersey.com.
The truth is in his tag line...
For the 150,000 hairs on your head, there's only one choice — Choose Anthony Vincent Salon for a more beautiful you!!
Our Mission
Anthony Vincent Salon is a destination where passion, purpose and trust meld together. We are a brand aligned with the community connecting young and old leading the way to classic or funky. To develop a culture of respect is a part of our recipe for success...Think deeply, Dream big, Build character and create a service of value for a better everyday!
Say Hello to Beautiful!
Give us a call today at 609-448-2212 and allow us to answer any questions or concerns that you may have. Or just drop by...no appointment necessary!